Ayurveda and Panchakarma Clinic & Day Spa in Asheville, NC
Make An Appointment! Call Us at (828) 713-4266
Ayurveda – Herbal Medicine – Nutrition – Self Care – Vedic Astrology – Meditation
Ayurvedic Herbal Medicine
Custom formulations of high-quality, organic and wildcrafted herbs.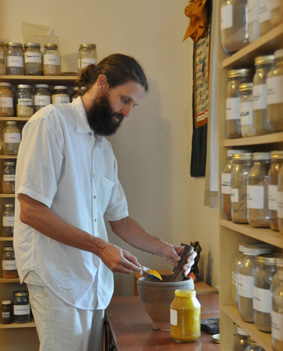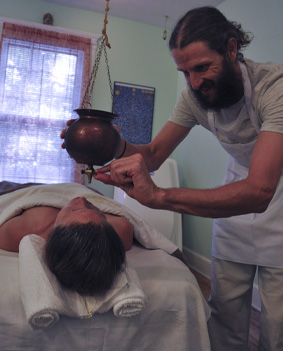 Ayurveda's Deep and Gentle Detox and Rejuvenation Program.
Authentic Ayurveda & Panchakarma Clinic in North Carolina
Ayurveda Asheville NC – Allow Ayurveda to restore harmony and balance in your life, and empower you to take control of your health with a natural, common sense approach.
At Blue Lotus Ayurveda, we offer personalized and holistic family healthcare that focuses on the whole you. Our services include Ayurvedic health consultations (in-person & long distance), individualized herbal treatments, nutritional and lifestyle counseling, Panchakarma (deep detox and rejuvenations), traditional Ayurvedic therapies, therapeutic massage, weight management programs and more for Ayurveda in Asheville NC.
Experience our Ayurvedic Day Spa packages to promote deep relaxation and healing or therapeutic massage with some of the best massage therapists in Asheville.
Ayurvedic Herbology
East & West: A Practical Guide to Ayurvedic Herbal Medicine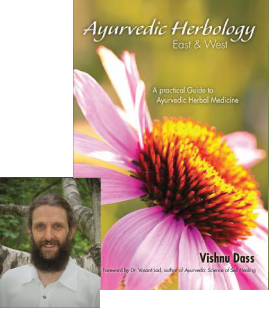 "This wonderful, practical book is one of the masterpieces of Ayurvedic herbology. Vishnu Dass has covered many subtle topics in a true sense, this is an integrated work, both for Eastern and Western herbalists. This book breathes the life of practical Ayurvedic principles, methodology, pharmaceutical and pharmacological actions."  – David Frawley
"This wonderful and practical book is one of the masterpieces of Ayurvedic Herbology. Vishnu Dass has covered many subtle topics in this quite scholarly work. In a sense, this is an integrated work, both for Eastern and Weatern herbalist. This book breeds the life of practical Ayurvedic principles, methodology, pharmaceutical and pharmacological actions." – Dr. Vasant Lad